Impulse Freak comes in two flavors: "three panel paper" and "online circular splitsy coup". We at SITO call these IFreak Paper and IFreak Overload, respectively.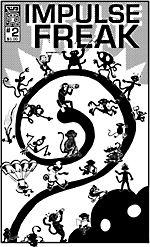 IFreak Paper is designed to be printed and distributed as a maga'zine. In it, each participating artist has three square panels in which to draw their continuation of the STIP saga. Each artist influences the next. Two issues have been published to date.
Issue #1 was published in November 1996. We've set up a page about it with a list of artists and some sample art.
Issue #2 was finished on October 4th, 2000(AD). Thanks to Jesse Reklaw, who took over the massive task of recruiting and compiling. Artists featured in #2: Trevor Alixopulos, bean amerika, George Baxter, Adam Berenstain, FC Brandt, Susan Butcher, Peter S. Conrad, Jani Crobar, Tim Danko, Rebecca Dart, Chieri DeGregorio, Steve DeGregorio, Ryan Dunlavey, Michael Fikaris, Adam Ford, Heather X. Fusion, Joe Fusion, Gabby Gamboa, Greg Gates, Benjamin Godfrey, Shawn Granton, Moira Hahn, Dr. R. Hanna, Christopher Herdt, Todd Herdt, Nikolaj Holm, Charles Horn, Paul Houston, Garret Izumi, Kiyotei, Katrin Kremmler, David Lasky, Patrick Lee, Kieran Mangan, David Mazure, Aaron O'Donnel, Q-Ray, Ted Rall, Jesse Reklaw, Kelly Renee, Jeremy Rizza, Androo Robinson, Vincent Sammy, Mortimer So, Petr Sorfa, Ed Stastny, Steven Lee Stinnett, Sunshine, Mrrranda L. Tarrow, Craig Thompson, Vanja Turkovic, Jack Turnbull, Leah Verre, Richard Vogt, Jerod Watts, John Weeks, Carol Wood, Randy Wood and Aleksandar Zograf.
IFreak Overload is currently an Internet-only project. Each artist gets a large circular 'page' on which to draw their continuation of the STIP story. Instead of a linear narrative, like in the paper version, Overload provides for branching of the story, which creates an exponentially growing set of stories to choose from. Like a "choose your own adventure" children's book. Read more about this project at Impulse Freak Overload.