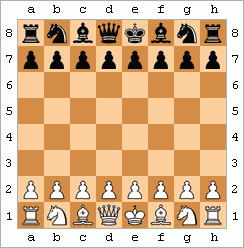 Description:
The immortal game was a chess game played by Adolf Anderssen and Lionel Kieseritzky on June 21, 1851. The daring rooks and queen sacrifices made by Anderssen to finally capture his opponent's king have made it one of the most famous chess games of all time. Anderssen gave up three major pieces (both rooks and then his queen) to checkmate his opponent with his three remaining minor pieces. It has been called an achievement "perhaps unparalleled in chess literature."
Played between the two great players at the Simpson's-in-the-Strand Divan in London, the immortal game was an informal one played during a break in a formal tournament. Kieseritzky was very impressed when the game was over, and telegraphed the moves of the game to his Parisian chess club. The French chess magazine La Régence published the game in July 1851. This game was later nicknamed "The Immortal Game" in 1855 by the Austrian journalist, Ernst Falkbeer.
I created this image, generating individual frames using Wikipedia's chess templates and animating them with GIMP. Frames have a time delay of 1 second.
Below is an earlier presentation using ChessPublisher.
Size:
108 KB
/
File uploaded:
8.13.2008 10:39
Copyright:
This work, unless otherwise noted, is licensed under a Creative Commons License. ('Creative Commons: sharealike copyright')
Post a COMMENT, about this art: