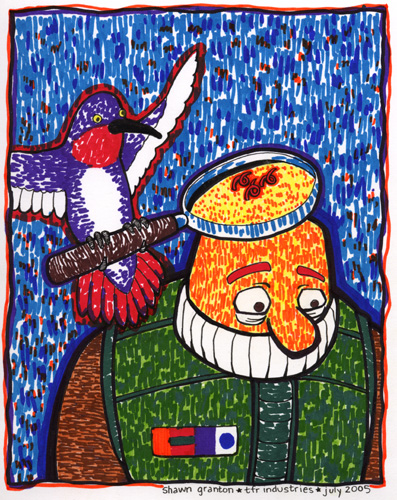 Description:
This here art is part of the "Male Pattern Baldness and Hummingbirds" Sharpie Show being curated by Bwana Spoons. It is opening Thursday, 7 July at Reading Frenzy here in PDX. Yep, the theme is exactly as the title of the show indicates. To learn more about the show, go here.

So I guess I captured the theme, though the meaning? I don't know! I'm a freaking artist, I can do whatever I want! Let "the public" interpret "the meaning".

As for the nuts-and-bolts, as per the show, the majority of the art was done with Sharpie markers, accounting for the too-strong markers (and also that PrismaColor markers are so durn expensive!) There's a bit of tech pen there as well, plus some colored pencil for sublties. Scanned in via Photoshop.

Coloring via markers isn't a medium I normally employ, so how do you think it turned out?
Size:
216 KB
/
File uploaded:
7.6.2005 06:11
Copyright:
Artist retains full copyright of any and all works he or she has created. Please contact this artist before using any of the artist's work in any way. ('Full copyright')
Post a COMMENT, about this art: