Impulse Freak
Impulse Freak
is the story of a little stick-monkey named STIP (Simple To Illustrate Protagonist). STIP's tale is told in the form of a comic book drawn by multiple artists. There is no end to his mischief, introspection, binge drinking, crystal ball consultation and vertiguous hurtlings. Silly monkey! Impulse Freak comes in two flavors:
Impulse Freak Paper, which is a three-panels-per-artist in linear sequence version.
Impulse Freak Overload, which features one circular "page" per artist that branches into multiple other pages that lead narratively into the future and past.
Impulse Freak Paper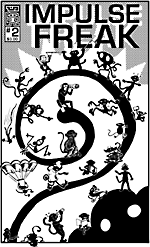 The "paper" version is designed to be printed and distributed as a maga'zine. In it, each participating artist has three square panels in which to draw their continuation of the STIP saga. Each artist influences the next. Two issues have been published to date.
Issue #1
was published in November 1996.
Issue #2
was finished on October 4th, 2000. Thanks to Jesse Reklaw, who took over the massive task of recruiting and compiling.
Impulse Freak Overload
Overload
is currently an Internet-only project. Each artist gets a large circular 'page' on which to draw their continuation of the STIP story. Instead of a linear narrative, like in the paper version, Overload provides for
branching
of the story, which creates an exponentially growing set of stories to choose from. Like a "choose your own adventure" book.