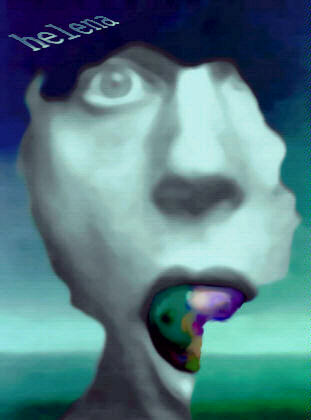 Description:
"Magritte's paintings are argumentative; they question one's assumptions about the world, about the relationship between a painted and real object, and they set up unforeseen analogies or juxtapose completely unrelated things in a deliberately deadpan style, which has the effect of a slow fuse."
Dawn Ades: Dada and Surrealism, Concepts of Modern Art,
London 1993, p. 133
Male view on Magritte's painting La Viole. Confusion, a view of breasts that surely aren't the eyes of this odd portrait. Consum- mation of art is not so simple. However, this is a picture of a painted woman, and her anatomy is slightly different from ordinary human anatomy, but Magritte's semantic game is close to male view on women.
Magritte's painting was uploaded from Internet. The photo of the man was scanned. The ball in his mouth is texturised by retouched breasts from the Magritte's painting.
Size:
17 KB
/
File uploaded:
4.13.1996
Copyright:
Artist retains full copyright of any and all works he or she has created. Please contact this artist before using any of the artist's work in any way. ('Full copyright')
Post a COMMENT, about this art: